Our Wine Specialties
(& More)
We offer a hospitality-oriented retail experience. We taste everything we sell, consider what we think makes the bottle interesting, and present that to you in a concise manner. Every wine has a brief description of why we like it, and prices are clearly displayed for every bottle.
See our current inventory at our online shop.
Wines are grouped by style, so you can move through the shelves and discover your new favorites. If you love a wine from our shop, we encourage you to try the other bottles on that shelf! We try to have a value-conscious example of every major style of wine represented on our shelves.
Red wines are presented along the wall progressing from light and elegant transitioning to medium bodied and culminating with the deep, dark, full-bodied styles at the front of the store.
White wines are similarly grouped by style, with a broad selection including luscious & full-bodied, aromatic & layered, crisp & dry, light & refreshing and exotic whites from lesser known regions. We always try to have a cold bottle of every selection on-hand!
Our Rosé selection swells in the springtime and shrinks in the fall, but we carry delicious rosé all year long: mostly dry, refreshing examples from around the world.
Orange/Skin Contact wines are, simply put, white wines made the way red wines are: the juice ferments in contact with the skins for varying lengths of time, extracting aromas, flavors, and tannin, making them suited to a wide variety of foods, including hearty meat dishes. Small, slow production, with careful attention to detail are hallmarks of these selections.
We also love Sparking Wine and carry a diverse selection of tasty bubbles from around the world: from Champagne to Prosecco, Cava, Pet-Nats, and dry Lambrusco!
After Dinner you might like to finish up your evening with a port, madeira, sherry, or Pommeau (cider blended with brandy) for some dessert in a glass!
Our selection of roughly 200 wines is carefully maintained and refreshed so there's always something new to discover!
While wine is paramount at our shop, we also showcase some other exciting products, like sake (Dan is a certified sake sommelier) and a selection of dry ciders from around the world.
Sake
If your only association with sake is steaming hot sake ordered from a sushi restaurant, it is time to try it again. Our shop features fine handcrafted sake from Japan and the U.S. We keep the selections fresh, so there is always something new to try. Our Sake Flight is the perfect introduction to the different styles of sake ranging from dry, earthy styles, to crisp fruity Ginjo styles, to sweet, creamy Nigori sake.
Cider
We focus on small producers of excellent ciders, both local and international. Our selection tends to emphasize dry ciders, handcrafted in small batches. Just like the resurgence of natural wine-making practices in the wine-making world, a similar movement is taking hold in the world of cider making, and we are proud to showcase producers of these styles of ciders.
Our shop features fine handcrafted sake from Japan and the U.S
Dan Kunnecke is a potter making and firing pots in Portland, Oregon, who works in his studio in the Roseway neighborhood and fires them in wood kilns whenever possible. Dan's introduction to the craft of pottery came from visiting the famous Japanese pottery village of Mashiko. Just sixteen years old at the time, Dan had no idea of the significance of Mashiko to the pottery world, only that it was not too far away from his hometown of Tokyo. Seeing an entire village supported by the work of these potters was enough to make him hooked and making pots of his own. Nearly twenty years later, Kunnecke has found himself part of another wood-fired community right here in the Pacific Northwest.
You can see Dan's pottery a few places in Portland including Shift Drinks, Fish & Rice in NW, and Heim Bakery & Cafe in NE. Along with pots, bowls and other vessels he has created a specialty line of cups exclusively available at our shop. More of Dan's work is available at his Etsy shop.
In December of 2017, we removed all of the wine bottles from our shelves and replaced it with pottery! We featured a show of the 10 artists who participated in the inaugural firing of a newly built Bourry Box wood kiln, called "The Slipper." Every firing produces different results and every piece of wood-fired pottery was unique. Stay tuned for future art shows!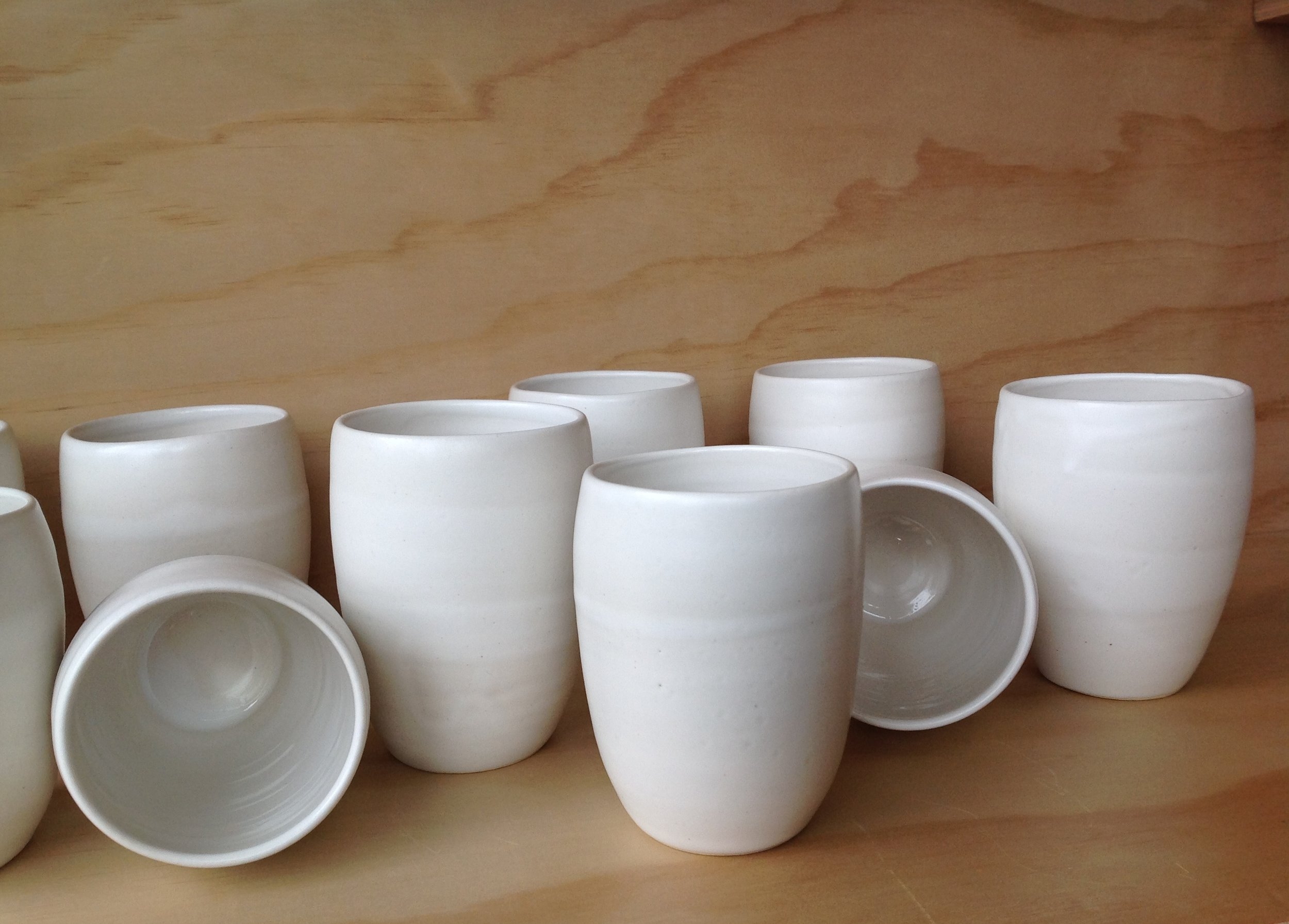 Along with pots, bowls and other vessels Dan has created a specialty line of cups exclusively available at our shop.
We have rotating selection of artwork from local artists, including handmade boxes by woodworker Jefferson Davis, and an exhibit of rotating visual artists.
After extended delays due to construction in the Summer of 2016, when we finally were ready to open our shop, we were super excited and super broke! We spent what we could on our opening inventory, but we still had some shelf space to fill, so we used Dan's pottery to fill in the spaces. We didn't know then that the incorporation of artwork would become a beloved part of the shop!
These days, in addition to the ceramics, we have beautiful handmade boxes by Jefferson Davis, who uses combination of salvaged and exotic woods as well as found objects to create unique pieces. See photos at facebook.com/jeffersondavispdx
Also in our shop are handmade journals by Candyce Monteleone. She creates one of a kind hand-stitched binding journals with found papers. Great gifts for the dreamers in your life! Etsy.com/shop/texturedexpression.
We also gradually realized that our walls could be used as a gallery, and we hung our first show of paintings in 2017. Look for a new installation every few months!
We just closed our most recent show of acrylics and prints by William Hernandez & will be installing our next artist soon...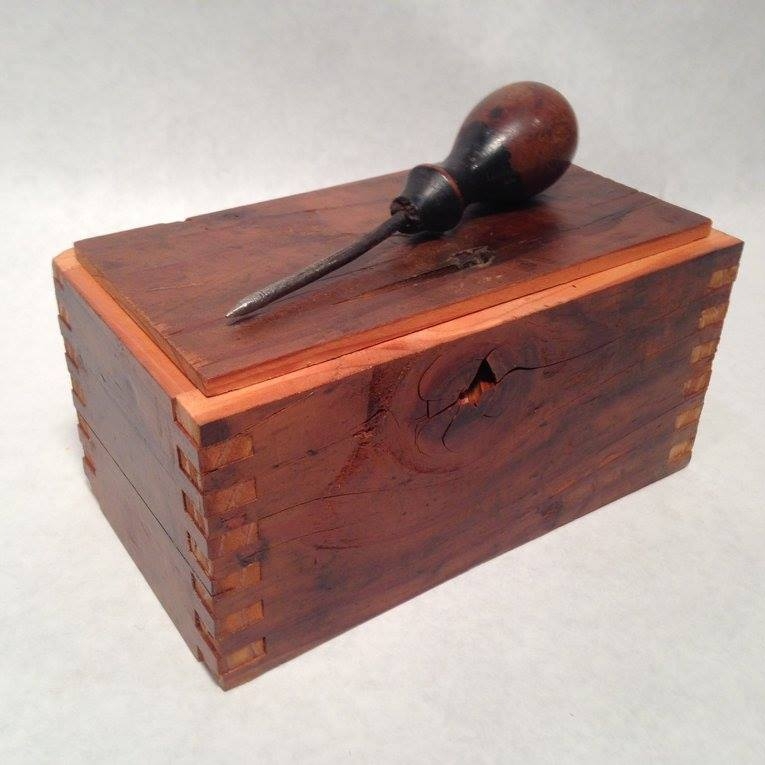 We have a rotating selection of artwork from local artists.